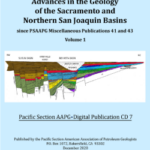 CD or DVD SERIES 7 – Advances in the Geology of the Sacramento and Northern San Joaquin Basins since PSAAPG Miscellaneous Publications 41 and 43, Volume 1, Edited by S. A. Reid and Scott T. Hector, 2021
$45.00
Advances in the Geology of the Sacramento and Northern San Joaquin Basins
since PSAAPG Miscellaneous Publications 41 and 43, Volume 1
Edited by S. A. Reid and Scott T. Hector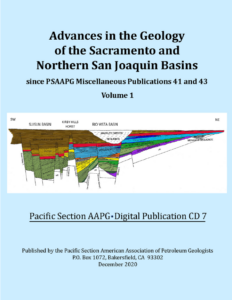 The Pacific Section AAPG is pleased to announce a new publication, Advances in the Geology of the Sacramento and Northern San Joaquin Basins since PSAAPG Miscellaneous Publications 41 and 43, Volume 1, is available for purchase. The collection of articles is the first Pacific Section publication in the area in 24 years. All articles are written by Vic Cherven, with one article having Peter Fischer and Scott Hector as co-authors. Articles reflect three decades of Vic's work in the Sacramento and northern San Joaquin Basins and include studies of outcrops in the northern Diablo Range from his dissertation at Stanford, and proprietary studies while working with Pete Fischer at Mesa Verde. Articles were written by Vic between 2008 and 2014 and are published here for the first time.
Articles include thorough studies of the Late Cretaceous through Paleogene section of the basin's stratigraphic fill. Vic relies on extensive analysis of electric log character, combined with core descriptions and paleontological data, to build correlations, facies interpretations and sequence stratigraphic frameworks. He uses the detailed stratigraphic frameworks to onstruct accurate timing of structural events, including episodes of faulting on the Midland, Kirby Hills and other fault systems. Geologists will find Vic's methods to characterize facies and build and use stratigraphic frameworks very useful, whether working in California's Gas Country, or in other regions of the world.
In their preface to their 1997 volume, editors Frank Cressy and Michael Simmons expressed their hope that MP-43 would encourage others to publish additional studies of the Great Valley. This publication, labeled as Volume 1, is the initial response to Frank and Mike's plea, and represents articles ready for publication as of early 2021. A second volume is planned, and several articles are being completed that will form the foundation of the new volume. But just like Frank and Mike, it is hoped that Volume 1 will stimulate further interest from those working the Sacramento and northern San Joaquin Basins, and to submit their articles for publication.