JOHN RUSSELL COASH
1922 – 2019
On March 21, 2019, John (Jack) Coash, 96 years old, long time Bakersfield resident and educator, passed away peacefully at home surrounded by his loving family.
John was born in Colorado among the mountains he loved, studied, and eventually taught about to generations of students. His adoptive parents were Grace and Art Coash. Growing up in Cleveland, Ohio, John graduated from John Marshall High School in 1940. He then enrolled at Colorado College in.Colorado Springs. During World War H, John served in the Army Signal Corps, stationed in India. He returned to college in 1946, majoring in Geology, graduating in 1947. He entered graduate school at the University of Colorado at Boulder, where he received his master's degree in 1949. During the time in Boulder, John met and married (June, 1948) Emily Judd Rocque, an ex-Navy nurse, and a student in Public Health Nursing. They were married for 62 years until her death in 2010.
In 1949, John and Emily moved to Ohio, where John was Professor of Geology, Chair of the Dept., and Assistant Provost at Bowling Green State University. They lived in Bowling Green for 17 years, except for one year in New Haven, Ct. where John earned his Ph.D. in Geology at Yale University (1954). John and Emily raised three children in Bowling Green and the family joined him for many fun summers at university field camps in Nevada and Colorado.
The family lived in New Delhi, India in 1966, where John was supervisor for the National Science Foundation and AID summer institutes for college teachers. The family moved from India to Washington D. C., as John accepted an appointment with NSF. Two years later John had the opportunity to help start a new state college in California and the family moved to Bakersfield, where John served as founding Dean of Science and, later, as Dean of the School of Arts and Sciences at California State University, Bakersfield, until his retirement in 1987. CSUB continues to be a growing, thriving entity and John's thousands of students have spread far and wide.
John was preceded in death by his wife Emily, and son, John. He is survived by: son Tom (a playwright and professor) and his wife Julia; daughter Mary (nurse and Healthcare Executive); Mary's two sons, John and Michael; Michael's wife Angelina and their two children Hazley and Mazen. Also, Somsavanh (Vanh) Mancevice, a former foreign exchange student from Laos, who with her daughters, Isabeau, Ariel, and Kira have been a part of the family for many years.
A memorial service will be held on Friday, March 29 at 4pm at the Doughty-Calhoun-O'Meara Funeral Home, 1100 Truxton Ave., Bakersfield, Ca.
In lieu of flowers, we ask that donations be made to the: Dr. John & Emily Coash Scholarship Endowment Fund (or a educational fund of your choice), CSUB Foundation, 9001 Stockdale Hwy, #AW19, Bakersfield, CA 93311. Questions may be directed to Kim Halbwachs: 661-654-3994.
---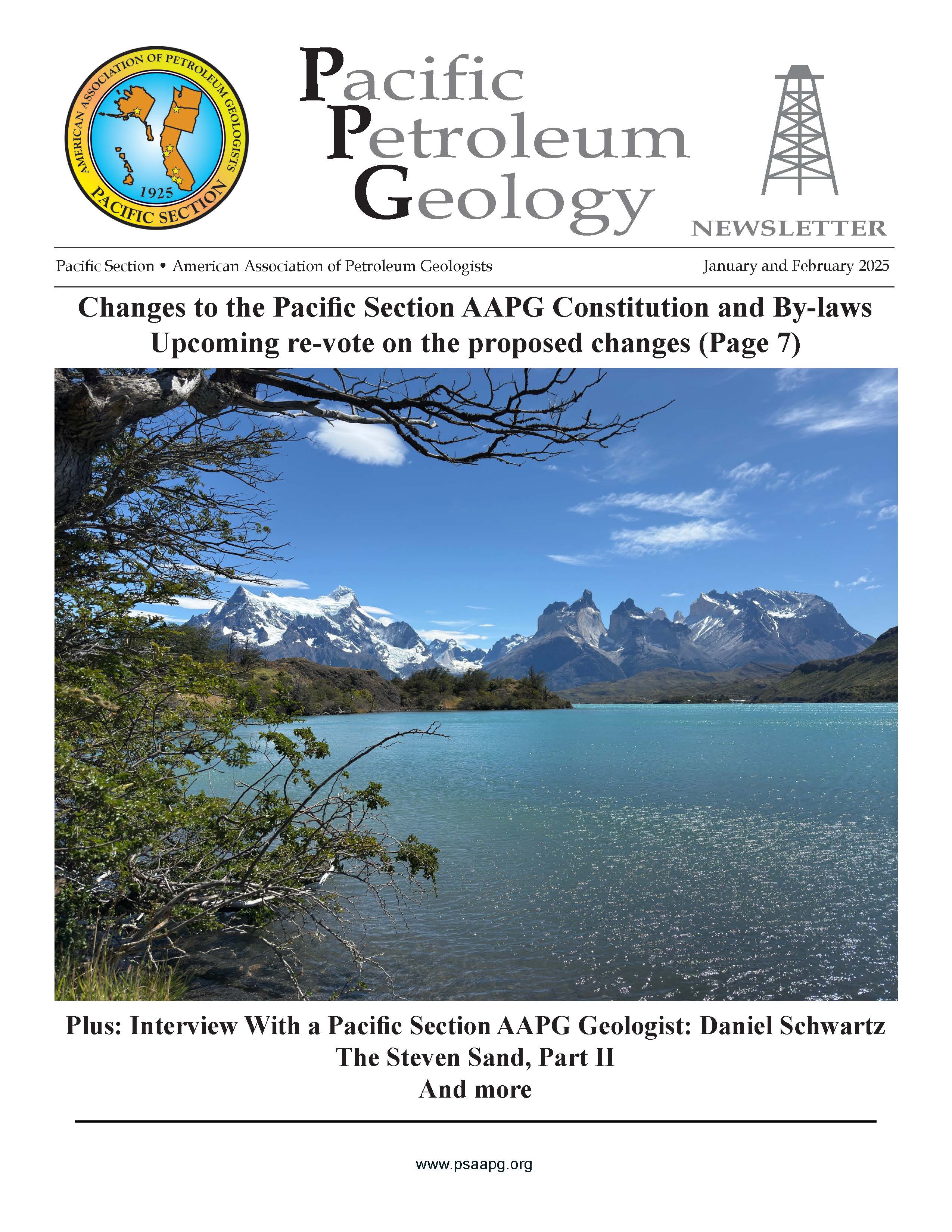 The January/February newsletter is now live and can be downloaded by clicking the cover or clicking HERE.
---
Click on events above to see our new event calendar!

Downloads

Download the 2017 PSAAPG Publication List For Ordering

or

Purchase publications online here

News

Congratulations to Xiaowei Li of Stanford University for receiving the 2017 John E Kilkenny Memorial Grant: Awarded by the AAPG Foundation Grants in Aid Program